COLLECTIVE ACTION: ADVANCING GENDER EQUITY WITH IMPACT
On 15 August 2023, Duke Corporate Education convened an inspirational and highly impactful women's conference in Johannesburg, where global leaders came together to drive gender equity and positive change. Top thought leaders, influential executives, and dedicated changemakers, as well as attendees, shared invaluable insights in this transformative experience to create meaningful change.
Did you miss the live event? Watch the video!

FEATURED SPEAKERS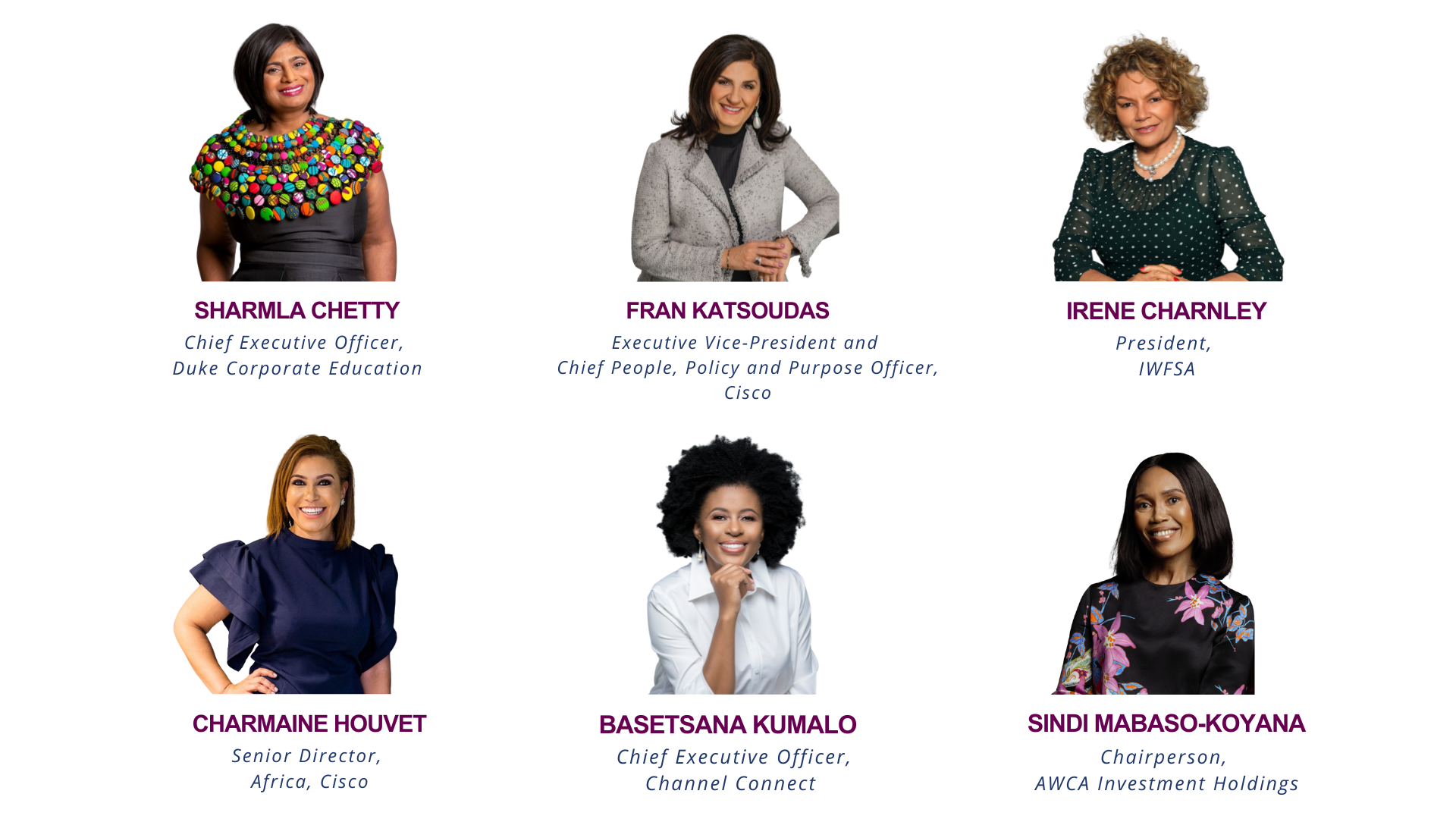 Agenda
8:30 AM - 8:45 AM – Welcome: Champions of Change
Our champions of change, Charmaine Houvert and Basetsana Kumalo, introduce the context of today's experience, inviting all participants to lean in and prepare to be inspired and provoked to lead change in their homes, workplaces and communities. Welcome to our day of collection action!
Basetsana Kumalo – Chief Executive Officer, Connect Channel
Charmaine Houvet – Senior Director, Africa Cisco
8:45 AM - 8:55 AM – Opening Address: When Women Rise, We All Rise
When we rise, our collective action in advancing gender equity with impact becomes an unstoppable force, fueling us with purpose. Let us converge with intention, each step empowered by our shared commitment, as we ignite a transformative journey that sparks inspiration in others. Together, through our unbreakable unity, we will conquer every obstacle, forging a future where success knows no limits.
Sharmla Chetty – Chief Executive Officer, Duke Corporate Education
8:55 AM - 9:45 AM – CEO Dialogue: Breaking Boundaries and Redefining Success
Join a distinguished panel of influential leaders as they share their personal stories, unveiling invaluable insights on breaking barriers, redefining success, using artificial intelligence and new technology, and crafting unique paths of leadership. Prepare to be inspired as they offer transformative experiences and wisdom that will empower you to shape an extraordinary leadership journey.
A Panel of CEOs:
Sindi Mabaso-Koyana, – Chairperson, AWCA Investment Holdings
Nolitha Fakude – Chairperson, Anglo American South Africa Management Board​
Taelo Mojapelo – Chief Executive Officer, bp Southern Africa​ ​
Nompumelelo Mokou – Managing Director, Dimension Data SA
Mpho Mookapele – Chief Executive Officer, EWSETA

9:50 AM - 10:25 AM – Panel Discussion: Unmasking Invisible Workplace Barriers
How can organizations support women in shattering glass ceilings, breaking barriers and promoting gender equity? Our panel of leaders will share how they've been working to break gender stereotypes with their employees and how young women in their organizations are taking the lead in creating change.
A Panel of Human Capital Champions:
Vishal Patel​ – President of Global Markets, Duke Corporate Education
Sharon Taylor – Chief People and Culture Officer, Standard Bank
Elsie Pule – Group Executive for Human Resources, Eskom
Matimba Mbungela – Chief Human Resources Officer, Vodacom Group
Deborah Fuller – Group Executive for Human Resources, Nedbank

10:25 - 11:00 AM – BREAK
11:00 AM - 11:30 AM – Allyship, Sponsorship & Mentorship for an Inclusive Future
Discover the inspirational stories of visionary leaders who have championed allyship to foster a more inclusive and supportive environment for women within their organizations. Uncover the invaluable lessons you can bring back to your company, as we delve into the extraordinary power of allyship. Step into a world where allyship, collaboration, and mentorship ignite transformative change. Discover how these powerful forces empower boundaries and how to foster an inclusive environment for women. Join us on this journey of practical action, as we embrace diverse perspectives.
A Panel of Inclusive Champions:
Facilitator: Basetsana Kumalo
Fatima Newman – Chief Risk Officer, EOH Group
Jeanett Modise – Chief People Officer​, Absa Group
Terryn Palani – Group Head: People Experience, Coca-Cola Beverages Africa
Tswelo Kodisang – Group Chief People Officer, FirstRand Group

11:30 AM - 12:00 PM – In Dialogue with Agents of Change for the Next Generation
Join in dialogue with the voices of the next generation who converge to ignite a powerful movement towards gender equality. By amplifying the voices of the next generation, we unlock fresh perspectives and invigorate the fight for inclusivity. Together, we empower change through insightful dialogues, collaborative initiatives, and mentorship opportunities, ensuring that every next generation's voice is heard.
A Panel of Next Gen Voices:
Tryphosa Ramano – Founder and Director, Magommake Ltd
Dr. Sibongile Vilakazi – President, BMF
Lerato Phelane – Chair Transformation Committee, Netcare
Esther Letlape – Executive Head: Human Capital, Public Investment Corporation
Zandile Mathabo Makhaya – Senior Treasury Manager, Harmony Gold
Ntebo Kgoroba – Group HR Executive, South African Reserve Bank

12:00 PM - 12:20 PM – Paying it Forward, Collective Action, and Entrepreneurial Spirit in Reimagining the Future
Immerse yourself in an inspiring fireside chat, sharing invaluable insights and words of encouragement on lifting as we rise. We will discuss the power of collective action, rising in our strength, and the impact of digitization and robotics on women and the economy. With every woman's victory, we illuminate the path towards gender equality, fueling an innovative spirit.
Basetsana Kumalo in conversation with Dr. Precious Motsepe, South African philanthropist
12:20 PM - 12:50 PM – Rising Beyond Limits: The Power of Women in the Boardroom
Hear from visionary women leaders across industries about leading change in the boardroom. By taking on leading executive roles, women can expand inclusiveness in all levels of their organizations, ultimately creating an environment that is more equitable for all.
A Panel of Women in the Boardroom:
Facilitator: Charmaine Houvet
Adv. Thandi Orleyn – Advocate, Board Member, Impala Platinum
Ayanda Mafuleka – Chief Executive Officer, Fasset
Zimkhitha Zatu Moloi – CEO, Mathupha Capital
Paul Norman – Group Executive Human Resources, MTN
12:50 PM - 1:50 PM – LUNCH BREAK
2:00 PM - 2:20 PM – Fueling Action Over Comfort
Participate in a captivating discussion, empowering leaders to challenge the status quo and fearlessly step beyond their comfort zones. Prepare to embark on a transformative journey guided by the remarkable Fran Katsoudas, as she unveils the transformative power of aligning personal purpose and vision.
Fran Katsoudas – Executive Vice President and Chief People, Policy & Purpose Officer, Cisco
2:20 PM - 2:40 PM – KEYNOTE – Leading with Purpose: The Transformative Force of Intersectionality
How do we come together as women to make a meaningful, coordinated impact on society? Dr. Ashleigh Shelby Rosette will examine embracing intersectional gender diversity with authentic intent, and the latent power that lies in the collective action approach.
Ashleigh Shelby Rosette – James L. Vincent Distinguished Professor of Leadership, Fuqua School of Business, Duke University
2:40 PM - 2:55 PM – Decoding Gender Bias in Artificial Intelligence
Sophia the Robot, a powerful ally and advocate for women and gender equity, on the impact of artificial intelligence and robotics on gender equity.
Facilitator: Charmaine Houvet
Sophia the Robot from Hanson Robotics Limited
3:00 PM - 3:30 PM – In Vogue - Revolutionising Fashion with Impact and Ingenuity
We'll celebrate the world of fashion and discuss using ethical practices and social impact to drive sustainability in the fashion industry. Women play the largest role in Africa in driving the fashion industry. So how do we collectively decolonize fashion and change the perception internationally of what African fashion should be? Hear from visionary leaders in fashion and see first-hand the results of their efforts.
A Panel of Fashion Leaders, including:
Facilitator: Basetsana Kumalo
Gavin Rajah – Creative Director - Gavin Rajah Atelier and Philanthropist
3:30 PM - 3:50 PM – Women Empowerment: Building a Movement of Change Above 50%
Ignite a transformative movement where women's empowerment transcends boundaries, surpassing the 50% mark. Join Irene as she unveils her groundbreaking #1000 women initiative, driving change and propelling us towards a sustainable and inclusive future. She shares her insights of actionable strategies that pave the path to a world where gender equity is not just a goal, but an undeniable reality.
Irene Charnley – President, IWFSA
3:50 PM - 4:00 PM – Awards & Vote of Thanks
Stuart Griesbach – Regional Managing Director South Africa, Duke Corporate Education
Basetsana Kumalo and Charmaine Houvet
---
In partnership with:

---
Thank you to our Headline Sponsors

Thank you to our Silver Sponsors